YouLynq.me ft. Ajar A.I. Consulting – Linkedin Marketing Research
Three months ago, our two startups from Amsterdam, Ajar A.I. Consulting and YouLynq.me, started to collaborate on the hot topic, LinkedIn optimization.
We (Rueben Alvarez, Co-Owner of Ajar and Michiel Verstraten, Co-Owner of YouLynq.me) first met in a bar in Amsterdam Zuid in January and immediately we gave each other so much energy: YouLynq.me has an incredible amount of data from 100+ clients and Ajar has the machine learning tools and knowledge to get insights in this data.
"Together we can improve online networking & business development and change the way we work forever." #automate #robotise #standardise
About us.
Ajar A.I. Consulting
Ajar A.I. Consulting is a team of Artificial Intelligence academics with an entrepreneurial mindset, based in Amsterdam. Their love for technology and their natural instinct for business transformation brought us together.
They work closely with the University of Amsterdam and do as much work as research to provide excellent state-of-the-art solutions.
They believe that forming a bridge between university and business will evoke a new class of businesses, built on strong AI and smart solutions.
YouLynq.me
YouLynq.me is a marketing agency that is helping freelancers, sales managers, companies and executives with high-tech business development service.
Currently counting 45 clients from whom the LinkedIn performance has been analysed by Ajar A.I. Consulting. YouLynq.me claims to turn Sales & Recruitment 180 degrees and they call themselves Social Business Assistants.
From our Knowledge Base
When you embark on LinkedIn marketing, it is crucial to ensure that your LinkedIn profile is up to date and visually appealing. Strive for 100% completeness and continuously optimize your profile. Once you have accomplished this, it is essential to identify your audience and define your goals. Unfortunately, not every company or individual recognizes the significance of this step. Knowing your target audience enables you to optimize your page for searchability. Upon completion, your follower count will increase, allowing you to publish engaging content on your company page.
LinkedIn is primarily utilized during the typical workday, from 8 AM until 5 PM.
LinkedIn attracts millions of professionals who are actively seeking meaningful connections and opportunities to enhance their companies. Unlike social media platforms such as Instagram, Facebook, or YouTube, LinkedIn specializes in the B2B market. While Instagram or YouTube may feature influencers endorsing products or services, LinkedIn focuses primarily on networking and finding the ideal collaborators for your business endeavors.
LinkedIn groups give you the possibility to communicate across social platforms. It's a great opportunity to build relationships and grow your network. LinkedIn groups could be relevant for you and your business because social media is changing. More and more businesses are paying less attention to huge public pages and opting for closed communities. Additionally, the user base on LinkedIn continues to grow. This makes LinkedIn groups an excellent way to bring your customers together, especially in the B2B market. Finally, LinkedIn groups offer fantastic management features that you won't find on other social media platforms. For example, you will receive a daily or weekly digest of all activities in your LinkedIn group. This keeps the members up-to-date and engaged.
So, LinkedIn groups will give you an opportunity to connect with a smaller group of like-minded people. Nowadays, people prefer close connections and small communities over huge networks, so this will give you a chance to build deeper relationships.
There are several benefits to LinkedIn marketing. LinkedIn helps you reach out to a more professional audience. You can also narrow your targeting by utilizing industry-specific variables.
Visit our knowledge base
Here's the first idea.
YouLynq.me is managing the LinkedIn profiles of 100+ professionals. All of these profiles are performing in an equal manner because all profiles are optimized beforehand. This ensures that the quality of the profiles should not affect the performance. Nevertheless, we are observing differences in conversion rates. To improve our service and to get insights on how to grow business on LinkedIn, we want to analyze how different LinkedIn profiles perform on LinkedIn. In this case, performance is based on the acceptance rate of connection invites. This is the first part of the sales funnel. Before optimizing the conversion of later stages, we decided to start with optimizing the first step so that our clients have as many chances as possible. Later we will analyze the step connections, chats, leads, meetings, and deals. Profiles are grouped by their sector, seniority, availability, sex, and whether these are foreign profiles. (Foreign based on non-Dutch profile names).
Here's what we did.
We collected all of our customers' data. Our customers invited other LinkedIn users based on our clients' wishes for expanding their network. Our clients range from juniors to seniors, exist of men and women, work in different sectors, and are of different nationalities. Our customers have invited from 184 to 6224 LinkedIn users to connect with them. All our customers have similar professional profile styles and copywriting. We've provided them with a certain Whitelabel LinkedIn profile that contains all the necessary information and is structured to readability and professionalism. We've grouped and counted all invitees per customer and compared the results.
Here's how we did it.
Following GDPR guidelines and with the permission of our clients, Ajar preprocessed and cleaned our datasets. Moreover, using machine learning techniques they acquired additional relevant information necessary to form interesting conclusions. Using YouLynq's expertise in marketing and behaviour on Linkedin, plus Ajar's technical skills we were able to present these results. Most of the work was done in Jupyter Notebook, using python.
Here's what we found out.
Foreign names (non-Dutch)
Shockingly, our clients with foreign names (non-Dutch) have a significant difference in acceptance rates. Compared to our clients with Dutch names, inviting as many Dutch and Non-Dutch LinkedIn profiles (50:50 on average), our non-Dutch customers were 5 times less likely to be accepted by a Dutch LinkedIn user. All YouLynq's customer LinkedIn profiles are created through their high standard of profile structure and English copywriting, the only exception being their names. Therefore we have to conclude that discrimination based on simply a name is still very alive in our online communities in the Netherlands.
Freelance vs Business profiles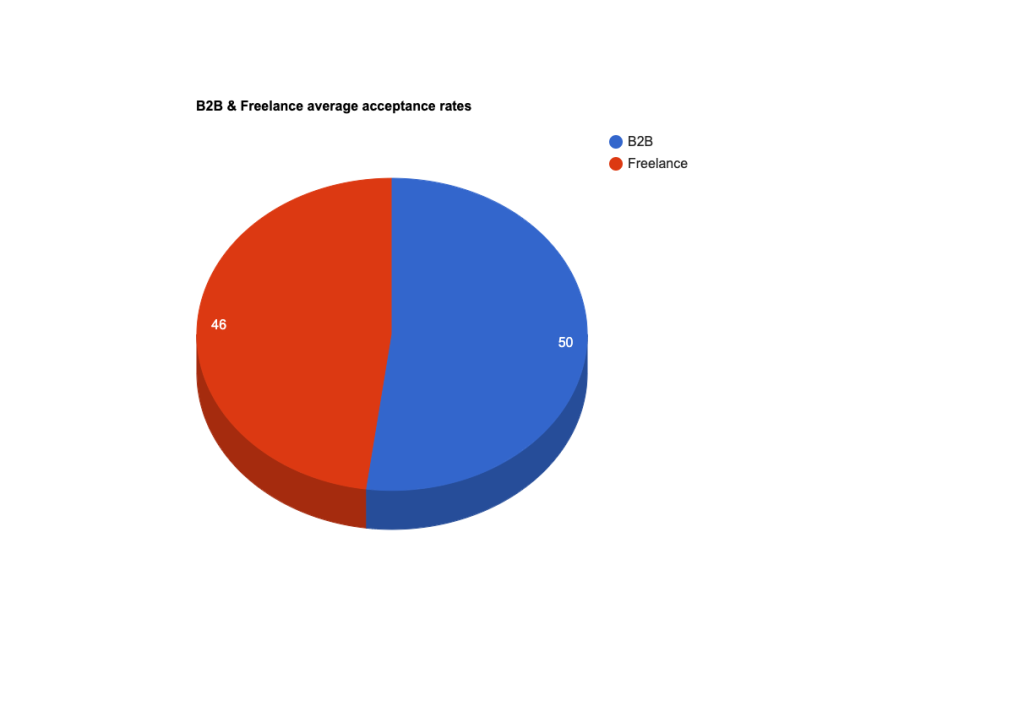 The majority of accepted connections are found in B2B profiles. Possibly more interesting for other employees, for freelancers require a different kind of work.
Senior, mediors, and juniors
Medior function profiles on LinkedIn have the highest average acceptance rate. Seniors second, and junior third.
IT vs innovation vs finance vs marketing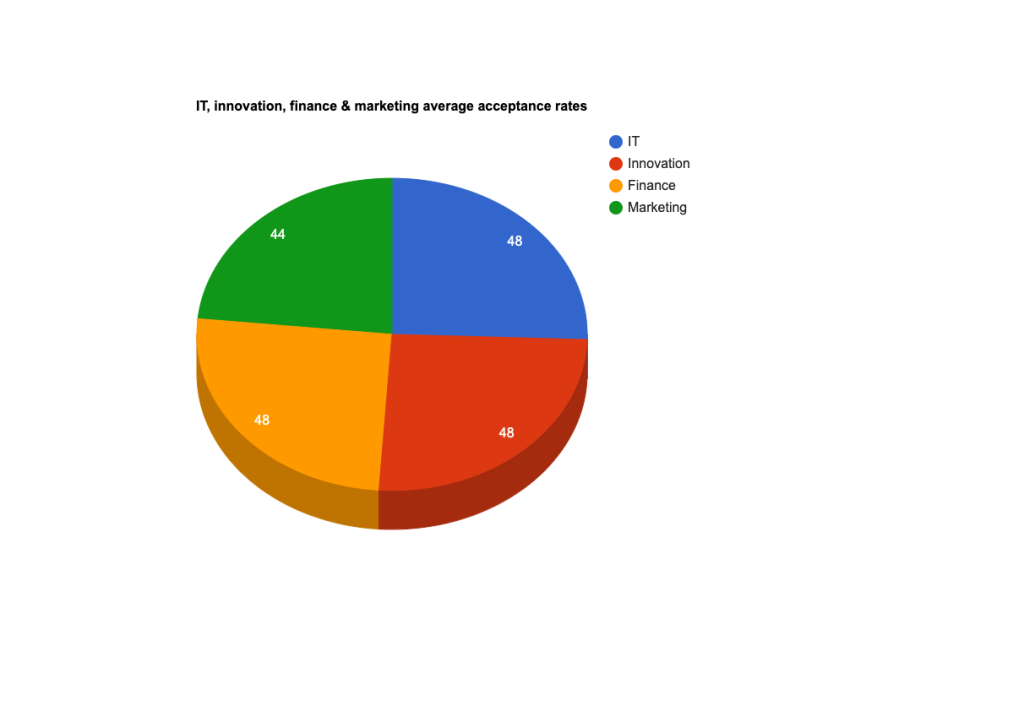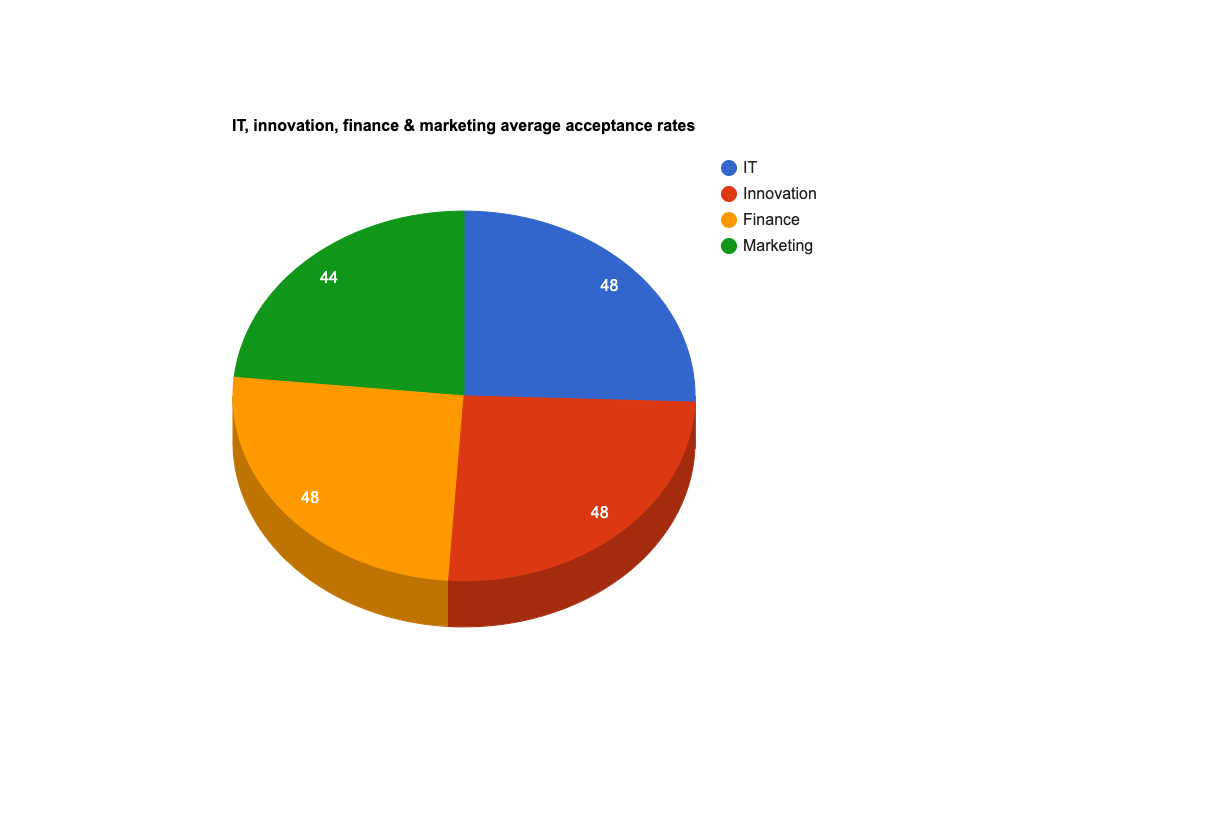 Marketing is the only sector that has a lower average acceptance rate, all other sectors were equal.
Availability
Our available clients show a difference in the average acceptance rate, compared to our unavailable clients. Clients who were not available for work at this moment had a higher chance of being accepted through their invite on Linkedin.
Do you want to know more about Data, AI & Machine Learning? Feel free to get in touch with Rueben from Ajar A.I. Consulting B.V. now!
Want to know more about how to digitalize your business development? Get in touch with Michiel from YouLynq.me now!